Pinnacle Wealth Brokers had an existing site that had provided poor user experience, was difficult to navigate and frustrating to update content by Pinnacle staff members.
Using Craft CMS I rebuilt the Pinnacle Wealth Brokers website. The site design was provided by Pinnacle and developed to be very easy for content editors to add, edit and reorder content as needed.
Things We Did
Project Management
HTML/CSS/Javascript
Craft CMS
Responsive Build
Strategy and Consulting
Homepage and Mobile View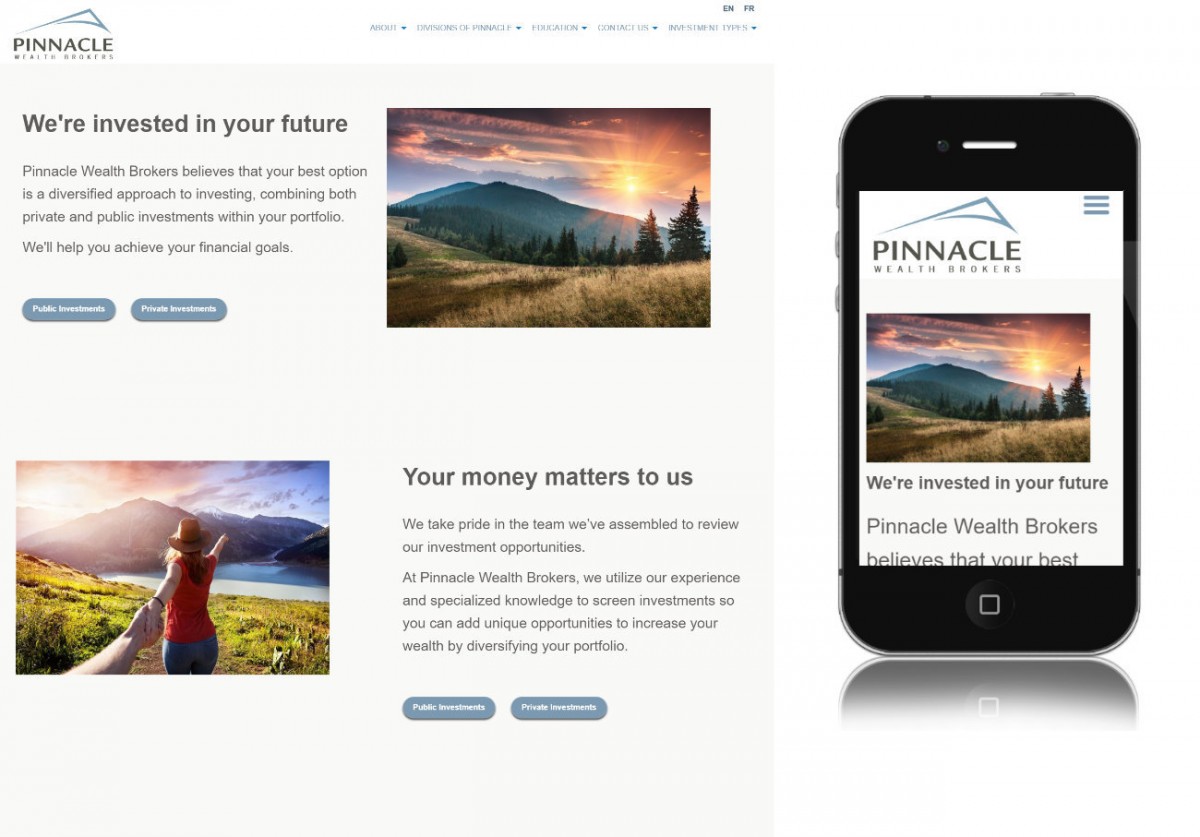 Content Builder
Not only is it now easy to create new entries, but blocks of content can easily be moved up and down the page by dragging and dropping the blocks. Page structure is not rigid allowing Pinnacle editors to be creative with the display and order of the various types of content across the page.
Flexible Navigation and Page Structure
Pinnacle also requested that page structure and navigation be easily changed. I delivered this by providing an option to control the main navigation that is separate from the page structure. This ensures that individual pages can be featured in which every section of the navigation that Pinnacle Wealth Brokers desires.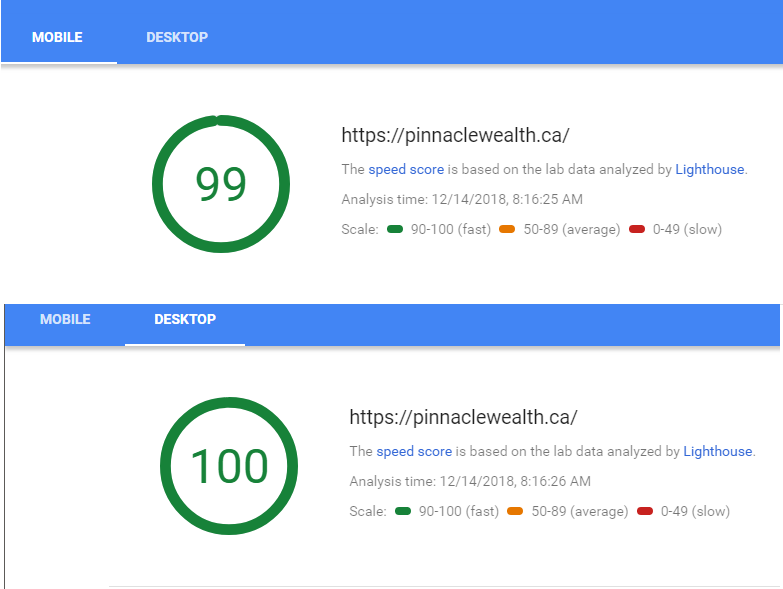 Page Speed
Additinally I optimized the new Pinnacle Wealth Brokers website to load quickly. This optimization has resulted in a google page speed score of 99% for mobile and 100% for desktop.
I had the pleasure of working with Sean Smith and Caffeine Creations on the production of our new company website. He showed an amazing degree of patience with us through the process, as well as being available and amenable to the many changes we needed during our sites creation.

Our new website has a high degree of functionality and is easily editable, which our previous site sorely lacked. It looks nice, is fast, and functions well.


Sean is a high integrity professional, always upfront and transparent when it came to costs and what's included in the scope of the project, there were no surprises.


We will definitely be hiring him again for future projects, and I highly recommend him to anyone looking to create a handsome website that requires high functionality and can be easily changed and updated on the spot.


Thanks for all of your hard work Sean!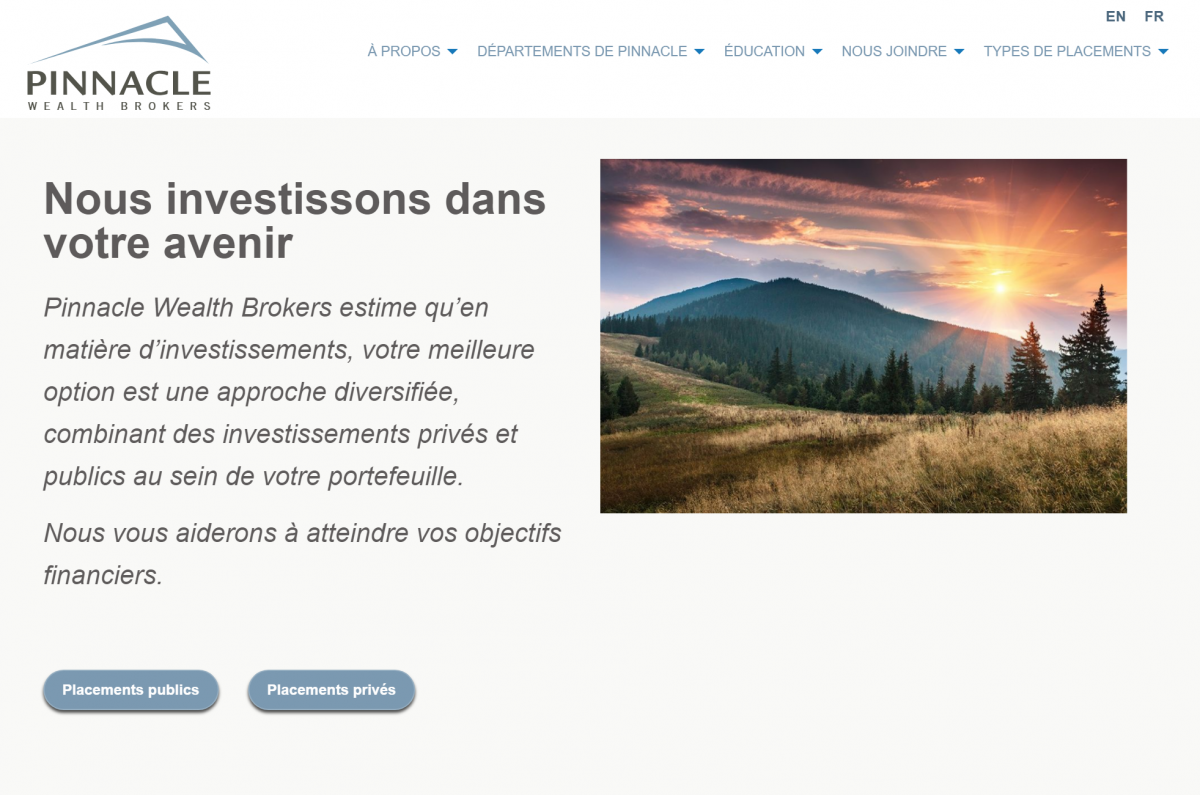 English and French Content
The Pinnacle website is multilingual ready. Pinnacle required that all content be easily translatable across the site, a feature that was difficult to use in their previous site.Using the power of Craft CMS I provided an easy to use work flow that makes it easy to have content available in multiple language.
Content editors are able to write in English or French and are able to control the order of content independently of the translation. This ensures that if one part of a page is more important in French than in English, they can place that part at the top of the page in French only.
Improved User Experience
With an easier to use navigation and clearly marked call to action buttons, user experience is improved.
Future Ready and Easy to Use
One of Pinnacles requirements when we started on this project was to ensure that the site could expand easily as their previous site was in a state that made updates difficult and costly.
Using Craft CMS ensures that their website can grow and expand. Like what you see? Then let's talk about how I can help you succeed.