The Holocaust Survivor Memoirs Program
I was approached by the Azrieli Foundation to implement a new design for their existing website and migrate the CMS to Craft CMS 3.x. The most important part of this update was that the Re:Collection section of the website remain exactly the same and all user data including user favorites be migrated to the new site.
Things We Did
HTML/CSS/Javascript
Craft CMS
CMS Migration
Strategy and Consulting
Responsive Build
Homepage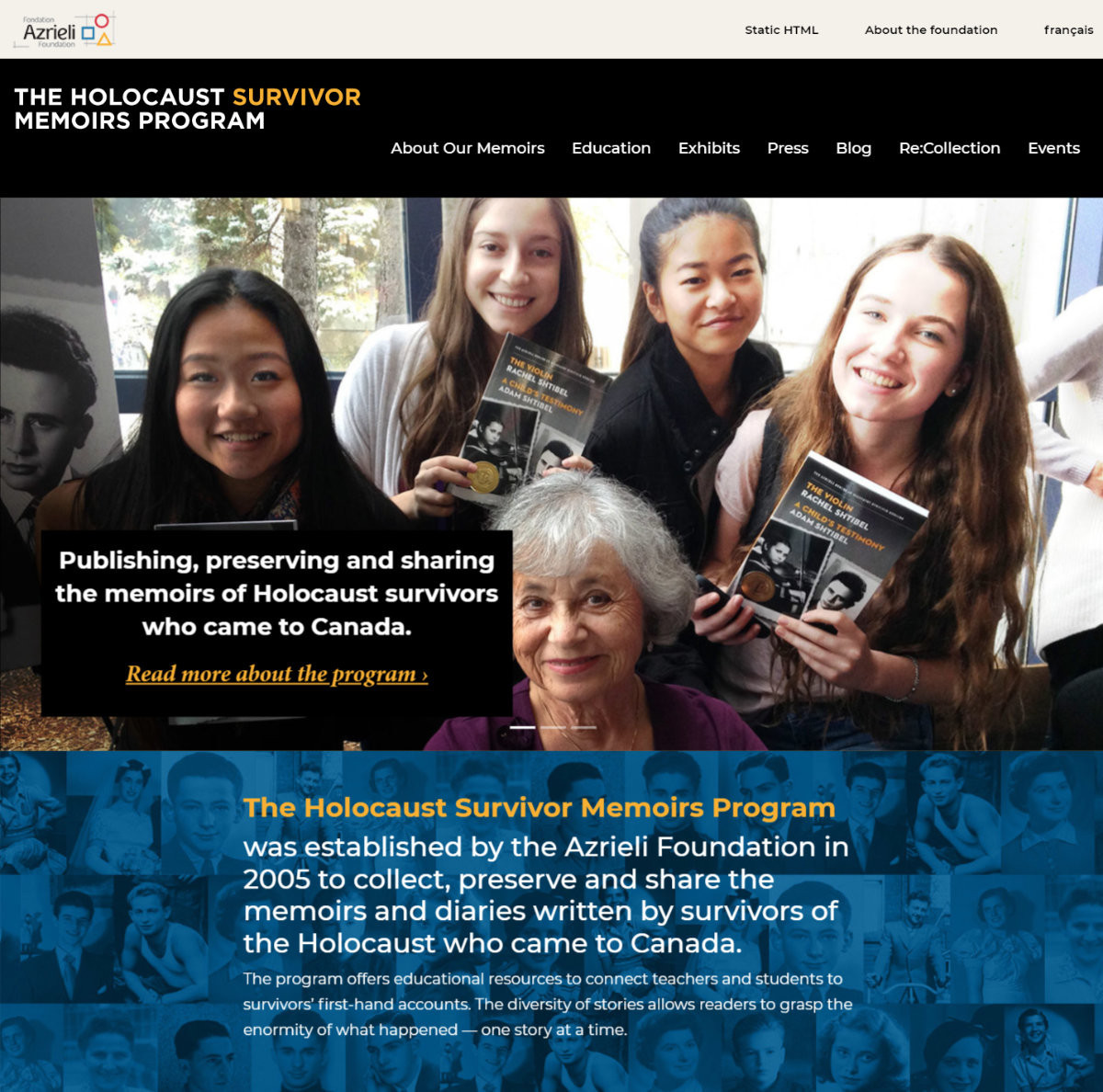 Author Experience
The Azrieli Foundation expressed frustration with their previous publishing experience. With that in mind I focused on ensuring that writing new content and editing existing content will be a good experience allowing for easy moving of elements up and down the page as well as control over text and background colors while limiting these choices to brand colors.
This ensure the most flexibility for content creators while at the same time ensuring that content stays within brand guidelines.
An additional consideration of the author experience was an easy to find User Guide integrated directly into the CMS. Now it is very easy to onboard new content editors.
All new content editors have easy access to the in CMS user manual allowing new staff to easily update content for all sections. Additionally as new features are added to the site, the user guide will be updated ensuring that it continues to be easy to bring on new content writers.
User Manual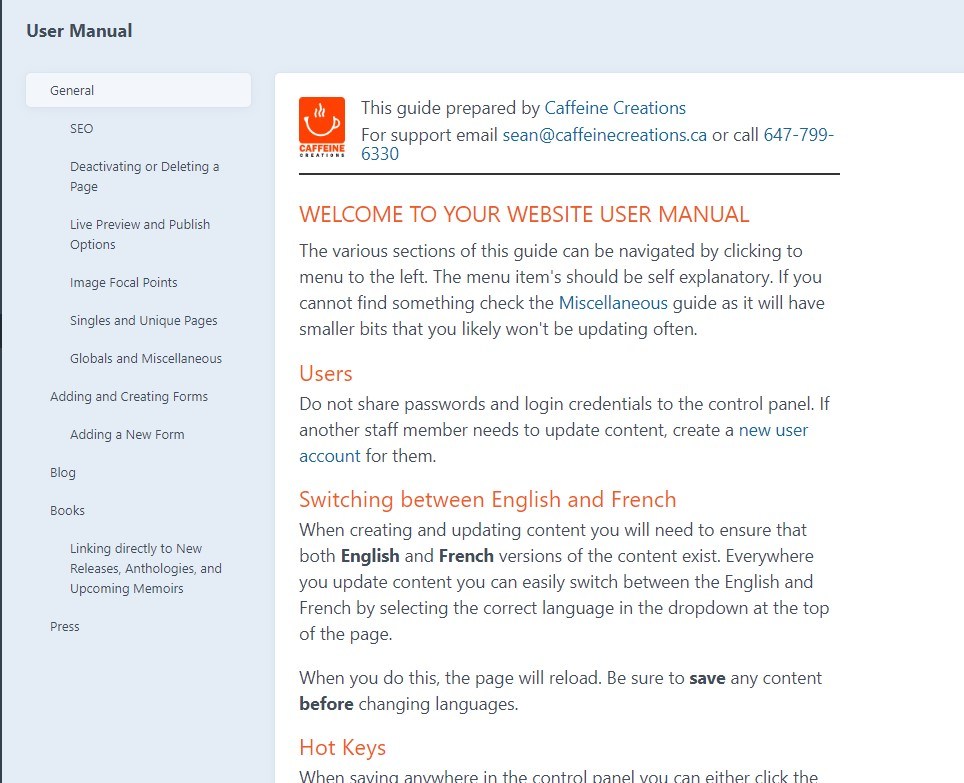 Data Migration
Migrating to a new CMS is a huge task due to the need to replicate entry data in the new CMS. I was able to migrate most of the 3,000+ entries automatically. Additionally 800+ users and user favorites were successfully migrated enabling those users to login and continue working on their school projects.
Sean Smith did a fantastic job building our new website. We were in a situation where we lost our original developer and we are so fortunate that Sean stepped in and implemented a design that was quite large and complex. He also rose to the added challenge of migrating our highly customized digital platform and ensuring its proper function within the new site. He was easy to work with and went above and beyond what was asked of him, adapting to our organization's constantly changing needs. Post-launch, Sean efficiently maintains our site and promptly addresses any new feedback. We are extremely happy with the end result.
Recollection
Re:Collection is an educational tool for exploring the history of the Holocaust through first-hand accounts of survivors. This innovative digital resource combines video interviews with memoir excerpts, photos and artifacts, and features interactive timelines and maps to place survivors' stories in historical and geographic context.
Re:Collection Survivor Page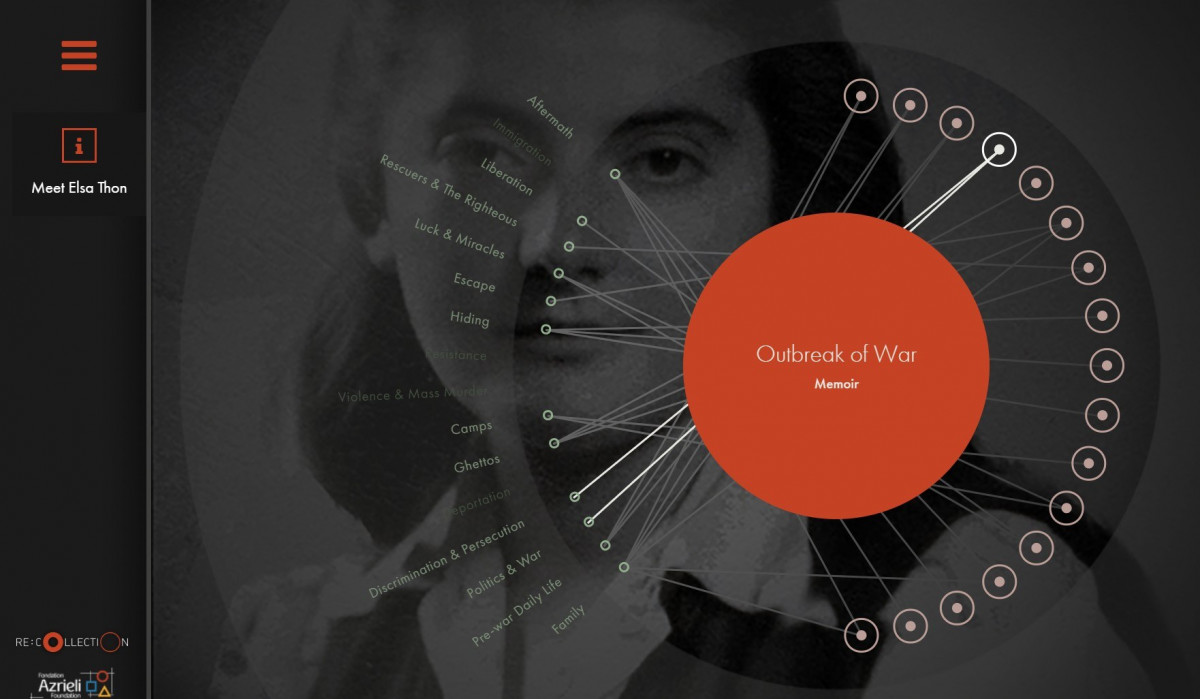 Each survivor has an interactive page where hovering over the small circles displays the title of an asset and the asset type: Memoir, Video, Photo Gallery. Clicking through to these brings you to a detail page.
Collecting Assets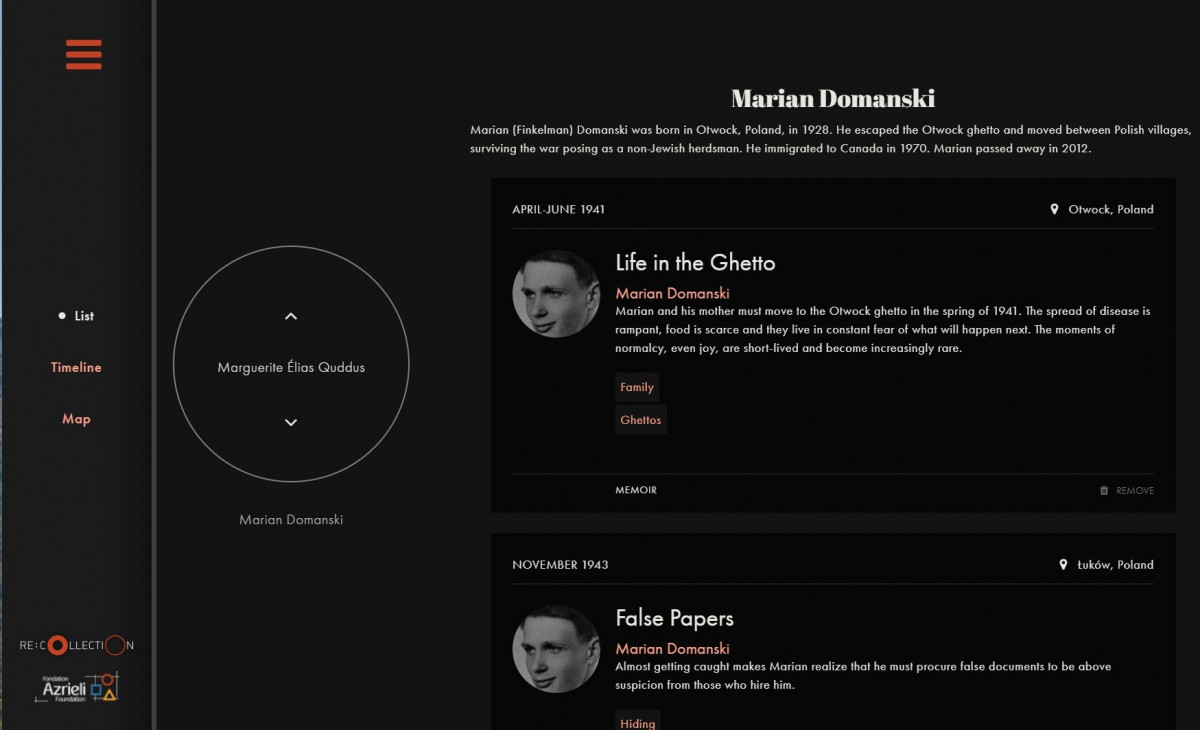 Each asset has the option to collect it or remove from collection. Once collected the items can be arranged, in a list view, chronologocally on the timeline, or in a map view. Above is the list view.
Like what you see? Let's Work Together