Why Content Writers Love Craft CMS
Website owners love to use Craft CMS because it makes publishing and editing content simple and fun. You can create content as easy as you would write an email. Continue reading to learn more about why others love Craft and how we can help you.
Craft CMS is a powerful and flexible content management system (CMS) that makes no assumptions about your content. You can organize your content in as many different ways as you would like. Other CMSs, such as WordPress, are much more limiting in what can be done without the extensive use of plugins. On the other hand, Craft has no such limitations.
In 2017 Craft CMS won the Best CMS for Small to Midsize Business on CMS Critic. Your business deserves the best, let's talk about using Craft.
It's Awesome for Content Creators
Content creators love the flexibility that Craft provides as they can easily select which content to include on a page, and then drag/drop this content into place to create unique pages on the fly. There are no constraints that one element only appears at the bottom of the page. Creators can place each element anywhere they want within the page.
The Power of the Matrix
The Matrix is the power behind this drag/drop option. Content writers create each element by adding blocks to the page, and then have the ability to simply re-order each block.
There are three blocks in the screenshot above: Main Copy, Floated Image, and Block Quote. Each block can be added as many times as needed, and each can then reordered to provide content writers with total control of the page content. There is no limit to the types of blocks that can be included or the fields within each block. Other block types could include video embeds, calls to action, photo galleries, or anything you can imagine.
Live Preview
Craft CMS has the best live preview I've seen on any CMS. When writing or editing an entry, if you click on Live Preview your publish screen will switch into a split view and show you how the page will look on the live site. Again, reordering blocks is as simple as dragging the block in the publish page up or down, with the preview window showing you the update live as you make the change. The live update is also rendered as you edit content and add new blocks.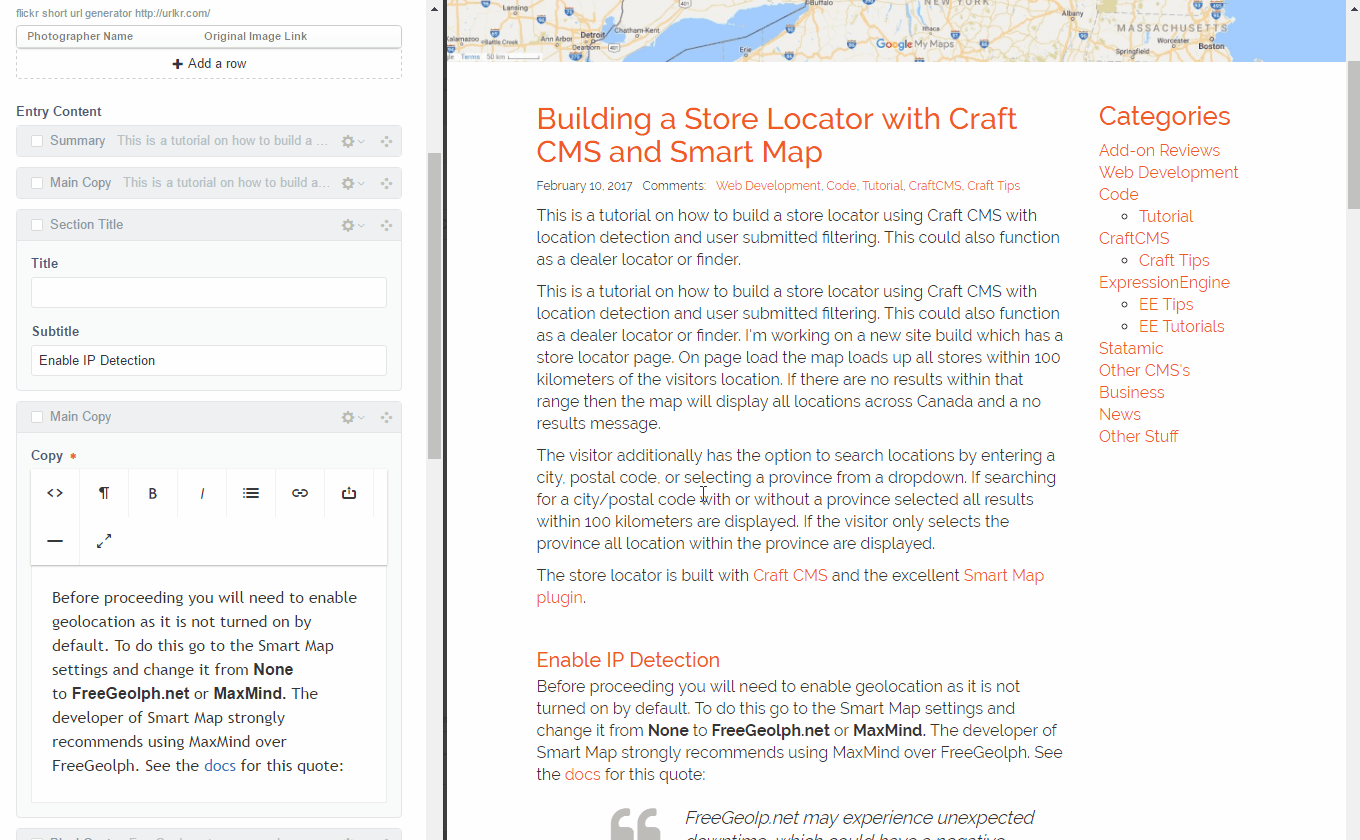 In the above screenshot we see an entry from the blog titled Building a Store Locator with Craft CMS and Smart Map. The publish fields are on the left, and the live preview of the site is on the right, which updates as content is typed and blocks are moved up and down the page. It really is brilliant.
Drafts and Publish Workflow
Content writers can easily work on an entry and save it as a draft for an editor to review and approve, or to make changes on before it goes live. You do this by clicking the dropdown option next to the save button and selecting Save as a draft.
When working on a draft, the save button changes to Save draft and the dropdown gives you the option to Publish or Delete the draft. Deleting the draft reverts you back to the previously published version.
In addition, you have the option to share drafts or unpublished entries with people who don't have access to the Craft CMS control panel. You do this by clicking the arrow to the right of the Live Preview button. Doing this will open up the entry in a new tab with a unique link that expires in 24 hours. You can now get feedback from anyone without giving them access to your entire site.
SEO
Every CMS provides SEO out of the box. However, of all the CMSs I've worked with in the past 10 years, Craft CMS has the easiest implementation of all the advanced features that you may need. When using Craft, your Open Graph tags, Twitter Cards, and other behind-the-scenes code such as JSON-LD microdata and metatags will be rendered flawlessly. All you need to do is write good content and keep your site fresh.
Soft Deletes
Have you ever accidentally deleted an entry on your website and wished you could bring it back? With Craft CMS, whenever you delete things, they will go into a "trashed" state for 30 days before getting fully deleted from the system. That means that there's a 30 day grace period where deleted items can be recovered, if the deletion ended up being accidental.
More Out of the Box
Craft CMS has more features built in out of the box than any other CMS I've used. This means less reliance on third-party plugins. In turn, this makes your site more future proof as you won't need to be concerned about a plugin not being compatible with new versions of Craft. Some of the features Craft has that other CMSs require plugins for include:
Multilingual Support
Live Preview
Drafts and Entry Versioning
Fields Everywhere - increased flexibility
Multiple Section Types - increased flexibility
Cloud Based asset storage: Amazon S3, Rackspace and Google Cloud
Flexibility
Craft is more flexible and powerful than any other CMS I have worked with, making it easier to do all the wild and complex things you want your web site to be able to do that might not have been possible using another CMS.
Conclusion
A website powered by Craft CMS allows site owners and content creators to easily create, edit, and update content on their websites. Amazingly, this crafting is as easy as writing an email.
Because it is so easy to update content, you will spend less time worrying about your site and be able to focus more on what you do best: running your business.
Select Craft CMS Projects
---
Contact usto get started building your Craft powered website today.